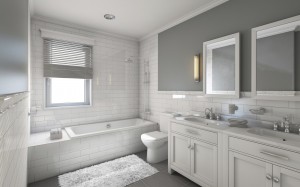 En-Suite Bathrooms for Harlow
En-Suite Bathroom designers and fitters for Harlow and Essex, if you have a space in your home you want to turn into a en-suite bathroom then why not get in touch with us today so we can show you what we can do with an en-suite bathroom. En-Suite bathrooms can be designed to suit the smaller places and areas of the home, so you things can be designed smaller to make sure you save on the limited space you may have to work with.
Walk-in Showers are a great way of utilising space in an en-suite bathroom, you can still have your toilet and sink and save the space that you would normally have reserved for a bath, you could also design a wet room for that en-suite space where everything in the room is waterproof with centralised draining in the floor. Many of our past en-suite bathrooms have been designed to suit the needs of our customers, so if you want a bath, we will work to make sure a bath can be installed in your en-suite.
If you have any questions about our en-suite bathroom fitting service in Harlow or Essex then please contact us for more for information