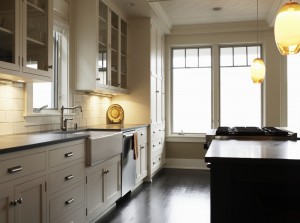 The best kitchen worktops Harlow has to offer
We supply and fit kitchen worktops for all styles and budgets. Fitting a kitchen worktop is something you need to have to experience and here at CF Oakes we have over 50 years in creating stunning kitchen worktops for many different homes. Many of our kitchen worktops integrate very well with kitchen ranges that we supply and fit, some of our high budget solid granite worktops have the sinks and drainer built in to the granite and our kitchen fitters can then work the worktop to your requirements.
When you are working hard in your kitchen you want to know that your kitchen worktops work hard for you, this is why we have some of the most durable kitchen worktops Harlow has to offer along with the best kitchen worktops installation professionally butt and scribed by time served kitchen tradesmen.
There are many types of kitchen worktops that we install throughout Harlow and Essex
Laminate Kitchen Worktops
Granite Kitchen Worktops
Stone Kitchen Worktops
Solid Surface Worktops
Our team of experienced kitchen fitters have years in designing and installing kitchen worktops throughout Harlow and Essex.
Laminate Kitchen Worktops
Laminate Kitchen Worktops are affordable.
Durable and long lasting.
Easy to maintain.
Loads of choice in terms of colour and texture.
Working with many suppliers of quality laminate kitchen worktops throughout Harlow and Essex, names you can trust such as Duropal, Bushboard, Amixon all supplied and fitted by us and we have been working with these great names for a very long time. We know laminate kitchen worktops better than any other company in Harlow, we can confidently say this and you will know that you are making the right decision in choosing your kitchen worktops with CF Oakes.
Solid Surface Kitchen Worktops
Again, with laminate kitchen worktops, we also understand the higher end kitchen needs. Sleek designed worktops that stand out from any other kind of kitchen worktop, when it comes to high end worktops we believe we answer for Harlow homes. The benefits of solid surface kitchen worktops are:
They look great
Easy to clean
Last a very long time
Durable for even the best chefs
Stone Kitchen Worktops
While we stock a range of highly effective worktops for your kitchen, stone worktops offer a stunning range of benefits, all of which will help to ensure your kitchen is stylish and functional. Some of the key benefits include:
Stone worktops have a stylish finish, available in many colours
Stone worktops provide a unique finish
Stone worktops are easy to maintain
Stone worktops are extremely hygienic
Stone worktops are resistant to heat
If you are looking for kitchen worktops such as granite, stone, m Stone then please get in touch with us today so we can show you some of our brochures and explain in more detail about our kitchen worktop ranges and styles. If you live in the Harlow area, why not visit our main showroom, have a coffee and let's chat about your next kitchen project.